Mending Specials#3: are Ice Rager and Evil Heckler living proof of Power Creep?
by JR Cook - 6 years ago
Today I want to talk about Power Creep. According to Wikipedia, "Power creep is the gradual unbalancing of a game due to successive releases of new content. The phenomenon may be caused by a number of different factors and, in extreme cases, can be damaging to the longevity of the game in which it takes place". Straight forward thinking would indicate that in Hearthstone, Power Creep presents as new expansions bring us new cards that are strictly stronger than similar older cards.  
But is this truly the case? Lets take a look at what initially look like very obvious offenders, the Ice Rager and the Evil Heckler.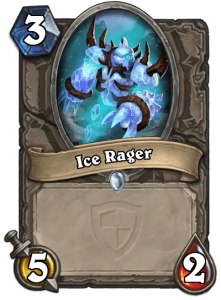 Both of these new TGT cards are strictly superior to their base set counterparts, but does this really affect the balance of the game? Or more specifically, is this a negative development?
The Grand Tournament has been out for a while now, and Ice Rager and Evil Heckler are nowhere to be seen in top-tier constructed decks. Both of these cards are completely irrelevant to the competitive game's balance, so where's the Power Creep?
If we think about it, the visible effects of power creep come when cards that were part of the competitive decks end up being replaced by newer, better cards. Lets take a look at some of the most impactful cards from Goblin vs. Gnomes. Piloted Shredder, and Dr. Boom quickly became the golden standard for 4 and 7 drops respectively. But then again look at the kind of cards they were replacing.
We have to consider that before Shredder came out, Chillwind Yeti of all things was one of the strongest 4-drops in the game. Yes, a vanilla starter card was one of the strongest options out there. So was the introduction of Piloted Shredder just blatant power creep, or was it the devs correcting and earlier mistake of not putting enough power into the 4-mana and 7-mana slots?
Dr. Boom has long been considered a problematic card; though you can argue that the problem with Dr.Boom isn't that much its average power, but the variance on his effects. I mean, if we had more 7-drops with such a power level, then maybe it would play off to buy slower decks that employ tools to make sure the game goes up to turn 7 and beyond.
We also have to consider that Shredder and Boom still stand strong today, they weren't replaced by better cards in Blackrock Mountain or The Grand Tournament, so it looks like the Power Creep is under control.
Personally, I think the Hearthstone Devs have done a fantastic job of addressing the Power Creep. While there have been some changes on the power level of some slots, thus far it feels very controlled. Honestly, its like the Devs are putting stronger cards in different slots to try and influence the pace of the game, rather than just them allowing some stuff to get out of control. In fact, if you consider the low amount of TGT cards that are seeing competitive play, you might even say that the Hearthstone Team is being overly cautious regarding the Power Creep. Better safe than sorry, right?
Check out what Ben Brode himself had to say about the Power Creep.
Interesting huh? Perhaps we can take a look at the availability of cards next week. How hard is it for a new player to catch-up exactly? What kind of cards make it easier or harder? Find out next week, right here on Mending Mondays!