HPL Player Spotlight: Muzzy from Team Hearthlytics
by JR Cook - 6 years ago
A lot of people have said that PVP Live's HPL features the best players you don't know much about. This is probably true, so I've taken it upon myself to help you guys learn more about these beastly players. For today's edition, we'll hope to have a nice chat with Muzahidul "Muzzy" Islam from Team Hearthlytics. This 18 year old from Pennsylvania is a great Hearthstone player who looks poised to make it to NA Championship this year.
---
DR23: Hello there Muzzy, we are very happy to have this chance to talk to you today. You are truly one of Hearthstone most underrated players, keeping yourself on the top 10 for most of the North American Hearthstone World Championship qualifying process. Still, there isn't a lot of information about you online, is it your intention to remain in the shadows?
Muzzy: well the reason people don't know about me too well is because I haven't appeared in too many broadcasted events. I also don't stream currently so the Twitch presence a lot of popular streamers have, isn't there. I didn't intend on being known for playing this game at a high level at first, but now that people start adding me and asking for coaching, it's something that I do take pride in and enjoy.
DR23: How about we let the people know a little more about you, what can you tell us about yourself?
Muzzy: I am currently attending college to major in Chemistry. Science and science related activities has been one of my hobbies since early stages of high school. I enjoy making engineering projects and participating in various competitions related to these projects. During my leisure time you can find me watching anime or Game of Thrones.
DR23: You have found a lot of success competing in Hearthstone, did you have the same success competing on Engineering Projects?
Muzzy: Last year I was able to help carry my high school's Science Olympiad team to States the 2nd year in a row and I have gotten 1st place in two of my events at States out of the 35 different high schools across my state participating in the competition.
DR23: That's indeed very impressive, kind of like your Pinnacle 4 Victory and the way you manage to acquire Blizzcon points. You might not be very popular, but you are doing quite well for yourself. Do your HWC points come primarily from the ladder, or are you getting a lot of points from non-broadcasted tournaments?
Muzzy: Most of the Blizzcon points I have earned resulted from my ladder finishes. I have multiple top 10 and top 20 finishes that have contributed to the amount of points I have. I also participated in a few weekly opens which had points. I was able to win 11 points from these tourneys which  have not been added to the Standings page yet.
DR23: You mentioned earlier that you don't stream currently, are there any specific reasons for that? Do you have any plans to start streaming in the future?
Muzzy: At home I wasn't able to stream because of my PC's limitations and the speed of my internet. however, I recently moved into college and my internet has gotten a lot better. in the future I hopefully intend on streaming to my Twitch Channel.
DR23: We all know that twitch chat can be very special, what do you think about their reaction to you? Does it bother you to be so heavily stereotyped?
Muzzy: I mean twitch chat is twitch chat. Nothing will change that. It doesn't bother me at all.
DR23: That's a good attitude to have, You are currently representing Team Hearthlytics on PVP Live's HPL. How did you end up joining HL and how important has it been to your development as a top tier Hearthstone player?
Muzzy: Back at the beginning of the year I was looking to make my way into eSports as a hobby. Jab was a streamer that I watched and saw he recently joined Team Hearthlytics. They said they had openings on the team and I applied and was fortunate enough to be picked up. Skills in the game didn't have a lot to do with why I was picked up though. It was an added bonus. Being able to fit well into the team and communicate was what did it.
DR23: Do you feel like being in HL has opened opportunities that otherwise wouldn't have been available to you?
Muzzy: Yes, winning pinnacle and gaining more recognition for my team is what allowed me to get invited to other tournaments and leagues. w/o the team I wouldn't have had this many opportunities.
DR23: You are currently classified for the Live Finale of PVPLive's HPL. Care to share your thoughts on the HPL experience thus far? What do you think about their presentation, casters, and emphasis on stats?
Muzzy: HPL was an underrated league. Their format allowing you to play anything represented ladder, where you don't know what to expect from your opponents. The casters did a very good job with their analysis and did not get all the credit they should have received. Twitch chat loved to belittle them because Twitch chat doesn't know how to do anything else. A lot of casters couldn't have done a better job than Tannon and Admirable with HPL. In my opinion the stats don't have too much of an impact currently on the game and it's outcome.
DR23: Blizzard has recently released a new Hearthstone Expansion, how do you feel about The Grand Tournament, What are your favorite new decks to have come out of this new expansion?
Muzzy: Well I mean, for me the grand tournament came at the wrong time. If the new expansion didn't hit I would have been most likely able to secure a top 10 finish at the end of the season since I was playing a deck that was solid vs the field. However with the new decks like secret pally and druids coming back, it really stirred up the meta and a lot of people got their way to top 10 to knock me out. Personally having played secret pally, I think it is an awful deck. If you don't draw the mysterious challenger turn 6 you lose, because you'll draw all your secrets instead of actual impactful cards. The people who have found success got very lucky,  I can't say much about other decks because I haven't had the time to test them out due to the move in to college.
DR23: Ok, so no favorite deck yet. How about favorite card?
Muzzy: Varian Wrynn.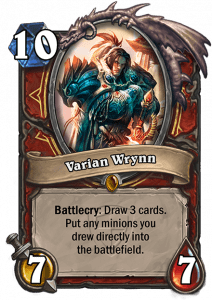 DR23: Hey man, thanks for taking the time to talk with us today, any closing thoughts? Something you'd like to say to the community?
Muzzy: I'd just like to thank my supporters and fans and hopefully I will be able to entertain them and win a lot of games in the future. You can usually find me on Twitter posting new decklists I've been trying out. Thank you!
DR23: Thanks to you man, best of luck with the World Championship Qualifiers and HPL Playoffs!