by JR Cook - 7 years ago
Team DKMR: Twitter | Website | Forums
Sponsored by: Gunnar – 2P – Waypoint – Empeopled
Written by [DKMR] Kisstafer
Welcome to this week's "What Would DKMR Do?" Each week we'll present an in-game situation and discuss the possible lines of play. Here's the scenario for this week:
Yeran wrote:
While using Holy Fire on Cairne does not improve the board, I still think it to be the most reasonable play.  I'd strongly recommend against going face with spells as we don't have the damage to kill him quite yet.
-Yeran's play uses our mana efficiently, which is often a good rule of thumb, and also begins working on removing the Cairne Bloodhoof  in the quickest fashion possible.
BFantana wrote:
Holy Fire Cairne and attack Baine with Blademaster. Leaves all 3 enemy minions at 1 health, which gives options for next turn.
– BFantana agrees that Cairne is a high priority target, and offers a way to foreseeably remove him entirely from the board.  He is willing to sacrifice possible damage with the Blademaster to ensure a board clear in the following turn.
Fireplugly wrote
I would go for broke. Holy fire and injured blademaster to the face. Unless the Hunter has heals, you are likely to take him to zero in a couple more turns, and you don't have to try to remove Cairne/Baine.
– Fireplugly would take a unique route, he has formulated a plan based around the burn potential in our hand and would go all-in on it, hoping it stays good and we can finish the hunter in a couple turns.
Anthony wrote:
I would play the soulpriest, then hero power Cairne for 2.
– Unlike the others, Anthony would keep his options open by going for the "take the board" approach instead of playing spells.  He puts his Soulpriest at risk but develops the most power on board.
So what would DKMR do?
This is a peculiar situation where it is hard to say what the best play is, because each option could potentially backfire based on what is in his hand (as is often the case when one gets behind on board).  There is merit to each suggestion offered, but DKMR believes the best play is to go for play Loatheb and attack face with the Blademaster.  The main reason for this is it allows us to keep our options open and gather more information about his hand, and Loatheb denies a large range of his potential holdings. Since we are not able to full-clear the Cairne, by playing Loatheb we put ourselves in the best possible position on board.  Based on what he plays on his turn, on our next turn we can either go for broke on his face and follow up with Holy Fires, or we can go for the defensive move and clear the Cairne next turn using our minions and spells.  
Loatheb is particularly strong on this board because he does not efficiently die to what is already on the field, and he prevents the Hunter from using any Unleash combos; makes Hunter's Mark extremely unwieldy; and makes Kill Command/Animal Companion unplayable (all of which we would be extremely vulnerable to if we had played the Auchenai or Holy Fire).  This means the Hunter would have to have a very specific set of cards to prevent Loatheb from getting in for 5 damage.  This sets us up to either retake the board in a dominating fashion, or close out the game with the remaining damage in our hand.
Next week we'll be talking about the scenario below. What would you do? Let us know in the comments!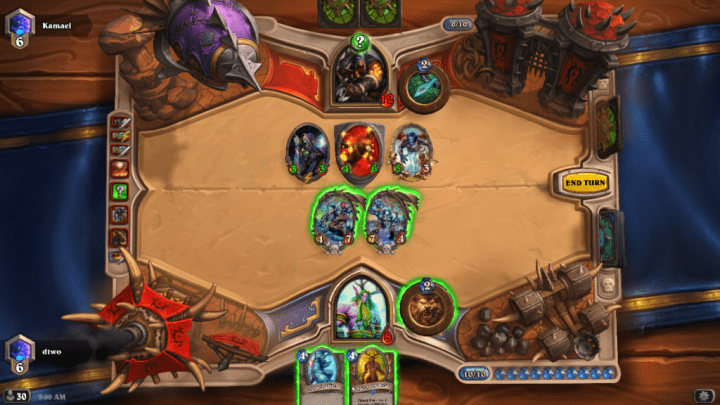 [DKMR]Kisstafer streams weekdays http://www.twitch.tv/kisstafer.
You can find all of DKMR's streamers on their website with times and the days they stream!