2017 Hearthstone Championship Tour Point Structure Announced
by JR Cook - 6 years ago
With the first month of the 2017 Hearthstone Championship Tour coming to a close, the Hearthstone website has been updated to reflect how players can accrue points throughout the year. The website breaks down how players earn points by Ranked Play and Hearthstone Tournaments.
In Ranked Play, the point structure compared with the 2016 season is as follows: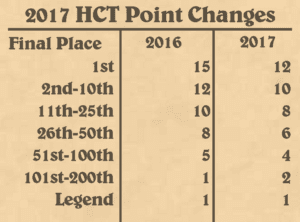 Just like the 2016 Hearthstone Championship Tour, HCT points are earned based on where players finish in Legend. Players receive less points for higher placements than last year except for those placing between Legend 100-200. Those players will receive 2 points where they would have only received 1 point in the 2016 season.
New to the 2017 season are "Monthly Cups." While we don't have any additional information besides the fact that they are monthly cups, we do have the amount of HCT points that will be awarded:
With Hearthstone Tournaments, the point structure is different from last year as well: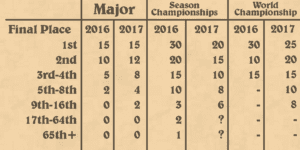 Points accrued from majors has remained similar, but there are a few differences. The most important being that players will not receive HCT points for placing 9th-16th. One of the major critiques of the 2016 system is that players in majors who don't place in the top 8 aren't rewarded and are often deterred from entering in certain majors that may be difficult to attend. With the 2017 format, HCT points are given to the top 16 players rather than the top 8. The same is true for the World Championship where all players involved will receive HCT points.
Overall, the amount of HCT points earned for winning Majors, Season Championships, World Championships, and Ranked Play are less than the 2016 season, but more players are eligible to earn points than ever. These changes seem to be a welcome addition to competitive Hearthstone.