Fade2Karma Deck of the Week: Midrange Hunter (by F2K Chalk)
by OtakuMZ - 6 years ago
Sponsors – GamersGearEU  |  Twitter – @Fade2Karma | Facebook – Fade2Karma | www.Fade2Karma.com
Written by @F2K_Chalk
Every week the pros from team Fade2Karma break down the "Deck of the Week." These decks are seeing a lot of play either in constructed ladder or tournaments. Team F2K explain the deck lists and how to play them. View past Deck Lists of the Week.
New season means a new start to this grueling ladder grind. For the past month (well even more), we've been seeing a lot of the same decks in ladder. Some of these are: Combo Druid, Secret Paladin, Renolock, Aggro Shaman, Zoolock, Control Priest, and Control Warrior. That being said, why haven't we seen Hunters lately? It is because people thought Hunter 'was' dead.
The League of Explorers (LoE) introduced a card named Reno Jackson that made it a lot harder to SMOrc: you sacrifice deck consistency for a worthy full life late in the game. Reno Jackson has single-handedly killed all the Hunter players. That's why we don't see them more enough in ladder now.
Last season, it took me a while to get to legend cos of the clown-fiesta ladder: it's either you face a super aggressive Shaman, an unSMORcable Renolock or just a very lucky Druid. Because of that, I played dumpster legend for a couple of days. Give me a handful of losses and a kilogram of salt, and I am bound to make something new to beat this system. This is what I made:
This Midrange Hunter list looks really slow: just Webspinner for the 1-drop, 3 minions for turn 5 and a Dr. Boom. Usually, all midrange lists end at Savannah Highmane. And yes, I intentionally made this Hunter somehow slow compared to other midrange lists and that's because I really wanted it to be good against control decks and Druid. When people play against Hunter, they tend to keep removal early game and that's when all Hunter decks lose steam. If our early board gets cleared early game, we can punish them with bigger minions in the midgame.
Because we sacrifice putting small drops for the big guys, I wanted to get presence for the early game too. Hence, the Glaivezooka, Snake Trap and Bear Trap. If all else fails against the aggro matchup, pray for Juggler + Unleash cos that's all we can do.
As for burst damage, we have a lot to finish the opponent off. Just make sure you can set up the board mid in the game. A double KC always works! Leeroy + Unleash will give you 8 damage on an empty board. Juggler + Leeroy + Unleash is the bomb! Control the board early on, that's the only thing that this will work. If you get enough damage in hand, that's the only time to hit face.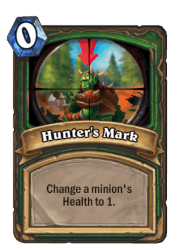 This deck's MVPs are Hunter's Mark and Leeroy Jenkins. Hunter's Mark deals with a lot of pesky stuff we have to deal with like Ancient of War, Druid of the Claw and Deathlord. It allows you to make an easy trade and develop a minion afterwards, similar to what Warrior removals are trying to do. Make sure to keep it against Priests all the time! You are welcome. 🙂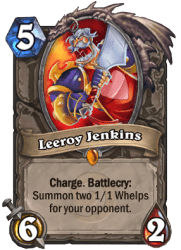 A ton of people do not play around the infamous Leeroy, and I mean a TON. This card won me a lot of games! Sometimes they play around 7 damge from hand like a Kill Command + hero power to finish them off. Leeroy just puts that extra damage you always need. It combos a lot with Unleash the Hounds that's why I like it. Burst is what Leeroy tries to do, and you always get it!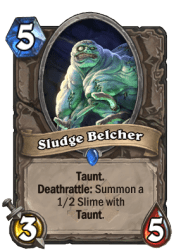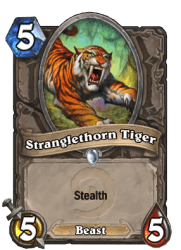 As for that extra 5-drop, you can change that with these 3 minions. Harrison Jones, if you see a lot of Warriors and Rogue. Sludge Belcher, if you can't handle aggressive decks that much. Stranglehorn Tiger, if you are a bit indecisive and just want that extra 5 to the face. Those are the only interchangeable cards in my opinion. The rest of the cards are really good for my list.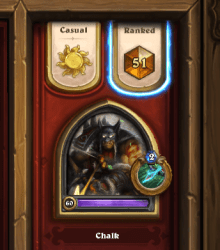 And that is my Midrange Hunter list. I swear it's good and you should try it. I was gunning for the HTW points, that's why I settled for top 100 at the end of season but I know I could've done a lot of work with this. If you have any questions, you can tweet me at @F2K_Chalk or watch my stream at https://www.twitch.tv/chalkhs. J GL HF!