BlizzCon 2015: New Legion Transmog System, Wardrobe, Outfits, New Transmog Slots
by Magistrate - 7 years ago
In our final World of Warcraft: Legion BlizzCon recap, we look at Lead Game Designer Mat Goss's presentation on the new Transmogrification system, including the Wardrobe, Outfits, new Transmog slots, and new ways to collect, share, and save your appearances.
For more on Legion raids, dungeons, scaling zones and questing, the Demon Hunter, and much more, see our 20+ BlizzCon articles.
Transmog 2.0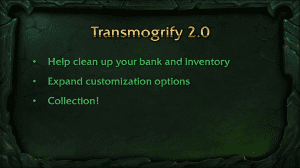 For Legion, Transmog focuses on freeing up precious Void Storage, bag, and bank space by saving the appearance of everything you collected into the UI–you'll never have to hold on to gear to mog again.
When Legion launches, every soulbound item you have anywhere in your inventory–including your bank and other areas–will automatically be added to your Wardrobe, your personal collection. Additionally, all rewards from every quest you've ever completed–including options you didn't choose–will also be unlocked in your Wardrobe.
And your Wardrobe is account-wide, meaning if a sweet tier piece drops for your Warrior that you really want for your Paladin, both can access its appearance from the Wardrobe. The only stipulation is the normal Transmog rules–you still can't mog something that you can't wear normally.
All item appearances are saved in your Wardrobe–you can sell all your mog gear if you choose and retain their appearances
Your Wardrobe is account-wide
All soulbound gear will automatically be unlocked in your Wardrobe at expansion launch
All quest rewards ever earned will be unlocked, including options not chosen
New Transmog UI
The new Transmog UI has two states–one that you interact with at a Transmog vendor Grand Expedition Yak, and another that you can open anywhere in the world. The former is the only one that will actually allow you to mog, but the second lets you see what you've collected, what you still need to find, and let's you see and select your Outfits (discussed shortly).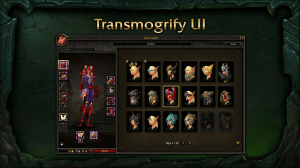 On the left of the new UI, you'll see the usual Transmog interface you'd see at your local Ethereal emissary, as well as a drop-down list to select your Outfit.
On the right, you have a paginated list of appearances of a particular type (like helmets). Favorited (starred) appearances show first, followed by everything you've already unlocked, and then every appearance you haven't unlocked.
Across the top, there is a meter that shows how many of the current item type you've unlocked. You change the current type by using the filter on the top right.
Outfits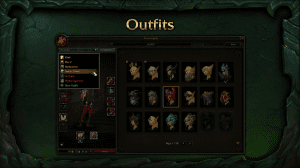 Outfits are Transmog sets that you put together at a vendor (presumably) and can then select from anywhere. You can save a different Outfit for each of your specs, so that when you change specs, your Mog changes automatically. Outfits include "hidden" slots, like cloaks, helms, and (new in Legion) hidden shoulders.
You can also link your Outfits in chat to other players, which will let them preview it and gives them a "shopping list" of each item.
New Transmog UI has two versions, one for interacting with Transmog vendors and one for viewing your collection and changing your Outfits while out in the world
Outfits allow you to save Transmog sets in a list for later use
Outfits can be set to change automatically with your specs
Outfits include hidden slots, like cloaks and helms
Legion will allow you to hide shoulders
New Transmog Features
The new Transmog system will allow you to mog three new slots: Tabards, Weapon Enchantments, and Shirts. These each have their own dedicated preview UI and work similarly to the rest of the Transmog system. Yay more free inventory space!
This wraps up Legion Transmog and our recap of this year's BlizzCon. Be sure to check out our series of 20+ World of Warcraft BlizzCon articles focusing on the new zones, Demon Hunter, scaling questing and zones, dungeons, raids, and much more! You can find it all here.