by Aaron "BLU3" - 7 years ago
With Blizzcon less then a month away Blizzard has released a tentative schedule of events. So if you can't wait to start planning your Blizzcon you can check out the online calendar now.
Some interesting notes is that this BlizzCon is starting to look a lot like BlizzCon 2010. Most of the franchises in 2010 had already had their big reveals (Cataclysm was announced a year earlier, Diablo 3 was still in development, StarCraft 2 had just launched). So in 2010 we basically got some more info on Cataclysm, Demon Hunter class was announced for Diablo, and yeah – there just wasn't a lot there.
In past years when there is a big announcement you'd normally be able to find either holes in the schedule (remember when there was a large gap for Overwatch and some people thought it was just because Blizzard put it in there for people to eat lunch?), or they would have vague panel names like "World of Warcraft: Preview" when Mists of Pandaria was announced.
In my opinion, this schedule doesn't look like we will see any new game announcement, with 1 Diablo panel it's not completely out of the picture – but improbable we will see a Diablo 3 expansion announced, and with WoW: Legion already announced we will just be getting a big data dump for them. Heroes of the Storm will show off new heroes and their plans, likely to see some major updates to Hearthstone and likely some kind of expansion/adventure mode announcement, and Overwatch will get more info – possibly the beta date if beta has not hit by then.
Missing from this schedule is a WoW Movie panel, but we do know the trailer will be shown at BlizzCon. It's probable they will show it during the opening ceremony or possibly have it in one of the viewing rooms like they did with the sneak preview last year for attendees.
You can view the full schedule below: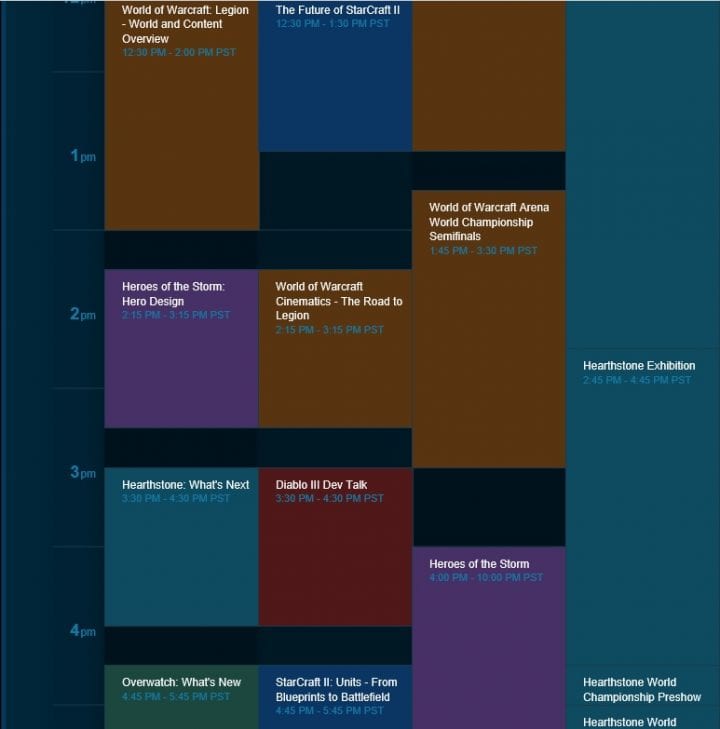 The full schedule of events for Friday can be found here: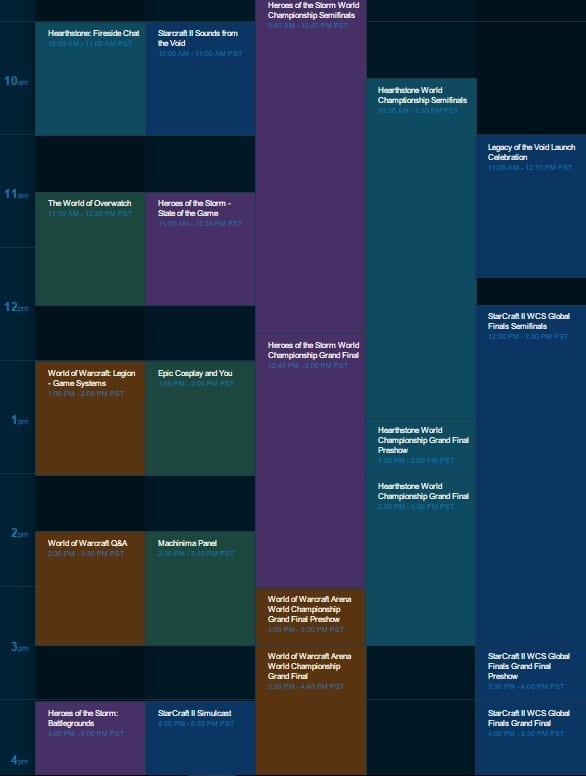 Saturdays events can be reached here: