Mending Mondays #4: With Might Like This, Who Needs Weakness?
by JR Cook - 7 years ago
While a lot of people scream for nerfs when cards feel overpowered, I don't see many people calling for buffs to long forgotten cards. In my mind, every non-joke card should at least be a decent fit in a viable deck. Also, the meta would grow a lot more interesting if a wider array of cards suddenly started seeing play. So without further ado…
Welcome back to Mending Mondays, a weekly feature where I, Dannie "IAmDiR23" Ray will take a look at some of the worst cards in the Hearthstone Classic Set and evaluate why they are deemed to be horrible, and what could be done to fix them.
---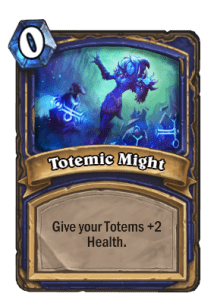 Totemic Might, showing once again that 0 mana cards are really hard to balance. Totemic is a card whose effect can be really usable, but overall the card feels too situational to fit in an all purpose deck. For a card like Totemic Might to even sniff viability you would have to build the deck around it. And while a Totemic Might deck could end up being at least decent, it just won't cut it.
Why is it so bad?
Totemic Might gives your Totems +2 Health, unless paired with Mana Tide Totem its likely to lose card advantage. Sure, there's the rare occasion where you will be able to make your Searing Totem trade with a enemy 2/1 and stay alive. Or that the extra 2 hp on your Taunt totem is just the thing that would keep you alive. Maybe you'll get yourself on a situation that making the Spell Power totem survive is key to winning the game. I don't know, of all the games i've played as a shaman I can count with one hand the number of times when I wished I had Totemic Might on my hand instead of some other card. In contrast, in almost every game comes a point where I wish I had an Hex, Fire Elemental, Rockbiter Weapon, or a Lightning Storm.
To summarize:
WAY too situational
Hard to get value out of
Can be a dead card for too long
What's the Design Intent?
One would think that the idea here is mainly to power up your totems, likely as a cheap spell. Totemic Might seems to work better when combined with Mana Tide and Flametongue, but those cards are strong enough on their own so I wouldn't clasify Totemic Might as a niche spell designed for themed combo decks.
Additional Notes
Totemic Might its at it best (or should we say least bad?) when taking advantage cards that synergize with cheap spells and having a lot of totems around. You can probably build a deck with cheap spells that tries to unleash a big Bloodlust on Totems and Tokens, you might win some games but I don't think its near the strongest options that Shaman has.
Possible Improvements
Basically, needs cards needs more bang for its buck. But just like Savagery last week, it's low cost prohibits having a world breaking effect. So you are most likely having to raise the mana cost so we can have an effect worth packing in your deck.
Now as for the effect, Totemic Might is exactly the type of card I wish you could cycle out of your hand. Again, adding a card draw would most likely warrant upping the mana cost. The other option is changing the effect to Attack instead of Health.  Imagine the possibilities, Totemic might could enable some pretty decent early trades. Or it could be the last few points of damage you needed for lethal.
The Results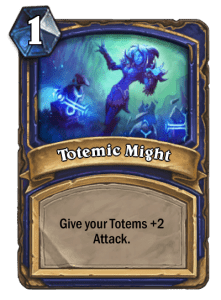 Maybe lorewise it doesn't make much sense to have the non-searing totems attack. But we don't need flavor, we need value. You are not guaranteed to have totems up, but in the right set up this could become a very mana efficient way to do damage. I bumped the cost to 1 just to err on the safe side, but I'd like to playtest this for a while. I'm not exactly sure how good or bad it could end up being, what do you guys think?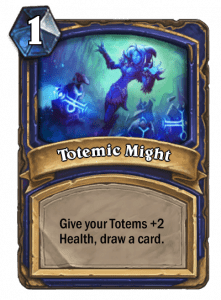 This one is truer to the original intention of the card, it is highly situational but this won't be a dead card. Even without totems you can just cycle it for one mana. Even using it on a single totem you just summoned could end up being advantageous. Unlike the Hunter's Flare which has a devastating effect against secret heavy decks, Totemic Might's effect is small enough that a 1-mana draw wouldn't exactly be overpowered.
Also on the plus side, these two versions of Totemic Might work with Gazlowe. But you could also go Vanilla and just buff the current card to 3 or even 4 health.
---
Which card should we do next? Let me know using the comment section or via Twitter @DannieRay23